Bespoke Doors
We can manufacturer to order, bespoke wooden doors. So if you have a pending project, new build or just simply the need to replace an old door, we can provide a hand made door for you. Here are a small selection of the external doors we have created. Our stained glass studio has completely refurbished and repaired the glass panels using where possible pieces of original glass from our own collection.
Contact us for details!
Oak external door and frame, finished in high Build exterior oil. We have encapsulated an original Art Nouveau stained glass and fitted black iron handles, letter plate and yale lock cover. As you can see the small hallway is now a glow with light..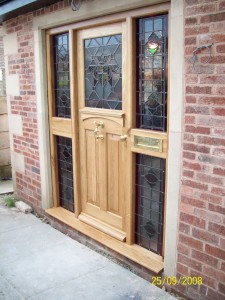 Stunning Oak door and frame with original Stained glass fitted into a new porchway. With solid brass knocker, handles, escutcheon and letter box and finished in an exterior oak oil, this door looks amazing!
Painted External door with Original Stained Glass panel. Glass was sympathetically enlarged in our studios to increase the light within the hallway and also to balance the appearance with the glazed panel to the left.
Oak Door finished with an external Oil to give it a natural look whilst providing a tough durable finish. Heavily beaded to replicate the original victorian style with contrasting cast iron handle and letterbox.
Painted Victorian style four panelled timber door with solid brass fittings making a classy entrance to a modern house.
Oiled Oak Door with Stained Glass panel.  Glass has been encapsulated between two pieces of toughened glass to make a draught free and secure panel.
"Royal Oak" stained glass door with solid brass centre door knob and escutcheon. One of our more expressive doors!